Maxx Tooling
MX-MP001-1


PREMIUM SYSTEM 3R® COMPATIBLE PALLET 3R-651E-P PALLET 54MM MACRO® COMPATIBLE
This product is currently sold out.
MAXX MX-MP001-1 Brand Premium System 3R® 3R-651E-P Pallet 54MM MACRO® Compatible  HighPerformance Hardened, with clearance holes for four fixing screws.
Repetition accuracy: – within 0.0015 mm
– Maxx MX-MP001-1 is adapted for automatic changing.
– Maxx MX-MP001-1 is parallel-ground top and bottom faces.
– Maxx MX-MP001-1 is rust-resistant.
System 3R®, Macro® and EROWA® company names are trademarks™ or registered® trademarks of their respective holders. Use of them does not imply any affiliation with or endorsement by them.
MAXX PALLET 54MM MACRO Compatible Macro® HighPerformance
PREMIUM 3R COMPATIBLE 3R-651E-P PALLET 54MM MACRO® Single - MacroHighPerformance Repeatability: 0.0015 mm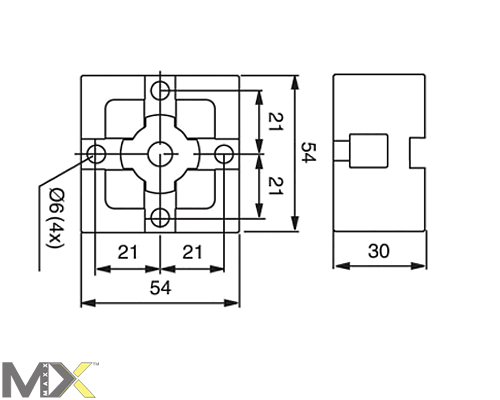 3R COMPATIBLE 3R-651E-P PALLET MacroHighPerformance
Repetition accuracy: – within 0.0015 mm
100% Compatible with your existing System 3R® Tooling
30 Days Return - 1 Year Warranty on Wear items and Lifetime on Casting